New Mexico is so rich in history that on a clear moonlit night, you can almost hear the voices of the Native American, Spanish, and Anglo people who shaped it all to make it into today's unique blend of cultural diversity. Unlike many parts of the country, where 200 years is considered a long time, New Mexican history dates back 12,000 years. Evidence of one of the first inhabitants – Sandia Man – are preserved just northeast of Albuquerque in the Sandia Mountains.
By the year 800 A.D., the ancestral Puebloan cultures established themselves in central and northern New Mexico, a culture that reached its height in the middle of the 12th Century at Chaco Canyon, the hub of a network of communities some 150 miles northwest of Albuquerque.
New influences came with the Athabasca speaking nomads from the North. The descendants of these American Indians are with us today in the Navajo and Apache tribes. The ancestral Puebloan culture, whose own culture disappeared mysteriously in the 13th Century, are believed to live on through descendants now populating Indian towns or pueblos concentrated in the Rio Grande Valley.
The Spanish then turned their attentions to colonizing the area and converting the American Indians to Christianity. Unfortunately, their methods were harsh and after years of Spanish oppression, the Pueblos and Apaches in 1680 struck back in one of the few successful Native American revolts in American history.
Control of New Mexico was regained by the Spanish in 1692, and for the more than a century they ruled the areas as a viceroyalty. When Mexico declared its independence in 1821, New Mexico became one of its territories. Then, when fighting erupted between the United States and Mexico in 1846, Col. Stephen W. Kearny and his soldiers captured Santa Fe, declaring New Mexico a part of the United States.
That declaration was confirmed two years later when New Mexico was formally ceded to the United States as a territory. It would not become a state until 1912.
Albuquerque has its beginnings back in 1692 when 30 families from Bernalillo – now a small community 15 miles north of Albuquerque – settled in 1706. They named their new town San Francisco de Albuquerque, after the Duke of Albuquerque, the viceroy of New Spain. The extra 'r' was later dropped.
Albuquerque offered good protection from marauding Native Americans, and some 6,000 people lived there by 1790. Almost without exception, it has remained the state's largest city since then.
The railroad era heralded a boom for Albuquerque, starting with Atchison, Topeka and Santa Fe in 1880. The city's population then doubled before the territory gained statehood in 1912. Over the years, it became known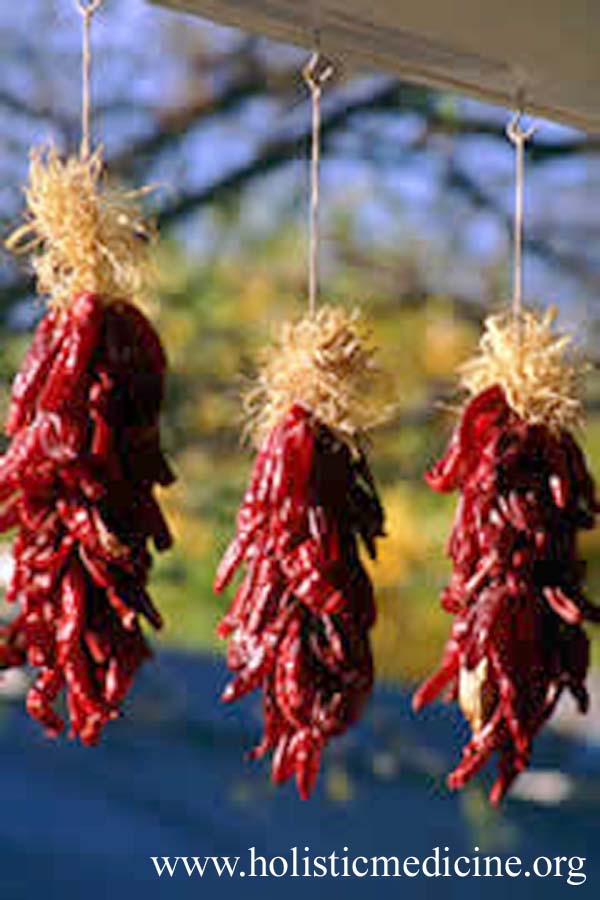 as a health resort where a dry, sunny climate cured whatever ailments a person had and made the healthy feel even better. The original city center saw the focus of activity shift a few miles east when the railroad arrived. The Spanish heart of the city became known as Old Town and has been preserved as a historical district. It is one of the prime attractions for visitors today.
During World War II, the Sandia National Laboratories in Albuquerque, as well as Los Alamos Scientific Laboratory to the north, put New Mexico on the map as a scientific research center. It was Los Alamos that served as the super secret nerve center for the development and testing of the first atomic bomb.
In recent years, the Albuquerque Downtown area saw itself rivaled by yet a newer district of shopping malls and other businesses known as Uptown. Downtown Albuquerque has been undergoing a renewal, including the restoration of the Kimo Theater, as well as the development of several plazas and new office construction. Also recently renovated is the Las Posada Hotel, which is the only hotel, listed on the National Register of Historic Places. Its guestbook is signed by American icons Lucille Ball, John F. Kennedy, and Bill Gates.
Today, Albuquerque sprawls over 188 square miles and continues to grow faster than most cities in the United States. Following years of development eastward to the Sandias, expansion is now shifting to the West. Foresighted city planners and the natural confines of Native American, government, and military land are responsible for the orderly development of New Mexico's largest city.
Climate
According to the Chamber of Commerce, Albuquerque receives 304 days of sunshine per year,
And we have a mild but invigorating climate with distinct seasons. We do receive snow during
The winter but it rarely lasts long, and rain comes primarily in the late summer and early fall seasons. Rarely do we have what one would call a persistent drizzle, but recent years have delivered heavy rainfall and thunderstorms during these periods. It is important to be prepared for any weather type, however, since next year could be rainless and over 100 degrees!
A few days during the summer the temperature may reach the 100 degree range, but the discomfort factor is kept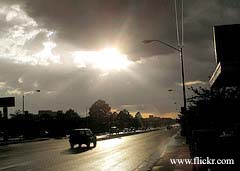 down by the low humidity (summer average: 30%). It cools down rapidly when the sun gets low, making summer evenings delightful. The average July temperatures are a high of 92 degrees and a low of 65 degrees.
Winter days are mostly sunshine. The daily average high in January is 47 degrees, and like the summer, it cools down quickly at night with an average low temperature of 23 degrees.
Entertainment and Recreation
New Mexico, with its origins rich in Spanish and American Indian cultures, has been a haven for artists for generations. In more contemporary times, it continues to foster a fascinating mixture of fine arts and crafts, with many galleries and museums in all the major communities, especially Santa Fe, Albuquerque, and Taos. The more than 100,000 visitors to the Annual Arts and Crafts Fair, held in Albuquerque during the last weekend in June at the State Fairgrounds, gives testimony to the success and appreciation of the artistic community in New Mexico.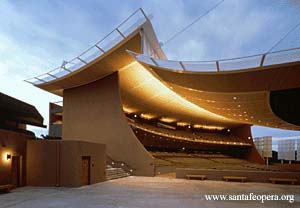 The scope of theater, concert, and nightclub life is exciting and diverse. The city is fortunate to have the New Mexico Symphony Orchestra, which features a full program from Fall to Spring. The Albuquerque Civic Light Orchestra, Opera Theater, and Little Groups provide a rich selection of entertainment with concert music, opera, drama, and dance. Many touring dance, concert, and theater productions include Albuquerque in their schedules, usually performing at UNM's Popejoy Hall or the Highland Theater. The world renowned Santa Fe Opera is only an hour away and is one of the finest summer events that the Southwest has to offer.
There are many very good restaurants in the city and in the surrounding area. While not as worldly as New York or San Francisco, most palates can be satisfied.
If you have a motor home or trailer, do not sell it! You will use it here. A great portion of general entertainment leans towards the outdoors. For trout fishing, hiking, camping, etc., New Mexico offers unlimited opportunities. The Jemez Mountains are about an hours drive away and the Pecos Wilderness is one and a half hours drive. If you really want to get away from it all and catch some trout, it is only about a three hour drive to the Carson National Forest. As well, several man-made lakes provide ample opportunity for boating.
Sporting events are tremendously popular here as everywhere. UNM Athletics are the cornerstone of the Albuquerque sports scene, holding games at one of the highest ranked venues, The Pit. Ice hockey has become part of the New Mexico sports culture, so much so that there is the newly completely Santa Ana Star Center built for the purpose of housing Scorpion games. We also have an AAA baseball team, The Isotopes, which play at the recently built Isotopes Park.
If sports are your thing, you will be pleased with the scope of activities the city has to offer, both privately and through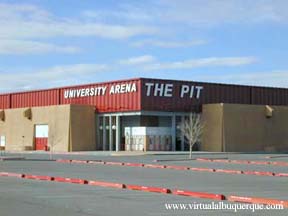 city facilities. There are numerous parks, golf courses, tennis courts, swimming pools, bowling alleys, and even 3 year-round ice rinks to enjoy!
For winter sports, there is usually plenty of snow from January to March about 45 minutes away on the east side of the Sandia Mountains. Downhill and cross-country skiing, sledding, inner-tubing, snowshoeing, and snowmobiling are some of the activities available in Albuquerque's "backyard." For more serious skiers, there is always Santa Fe, Taos, and Red River, to mention a few of the more challenging ski areas in the state.
Private or club airplane flying is great in New Mexico. Distances make it convenient and the air traffic is negligible compared to some areas. Also, the world famous Hot Air Balloon Championship Races are held here each year in October during the annual National Hot Air Balloon Fiesta.
Things to Do and Places to See
Besides the superb climate, perhaps Albuquerque's biggest asset is the scope of cultural, recreational, and educational attractions, falling more in the league of cities with several million people versus Albuquerque's 650,000.
The Albuquerque/Santa Fe twin city area (the cities are separated by an hours drive on Interstate 25) is the heart of the New Mexico art scene. The New Mexico economy reaps $500 million in tax revenue from this field, and 4 out of every 10 New Mexicans are either involved in the arts or have relatives who are.
Music and Theater
Albuquerque has a unique music scene, presenting anything between Symphony, Opera, and Chamber music to Bluegrass, Country Western, Latin, and Jazz.
In the Classical vein there is the New Mexico Symphony Orchestra, the Albuquerque Philharmonic Orchestra, and the Chamber Orchestra of Albuquerque – UNM's Wind and Early Music Ensembles. For Opera fans there is the Albuquerque Civic Light Opera Association and the Santa Fe Opera, which is held during the months of July and August in the company's spectacular open-air theater and is nationally recognized for its innovative productions. Another regular summer musical event is the Santa Fe Chamber Music Festival.
Albuquerque has an unusually large number of theater groups, including the Gorilla Tango Comedy group, the internationally recognized Trick lock group, and the theater students of UNM. There are several theaters to view live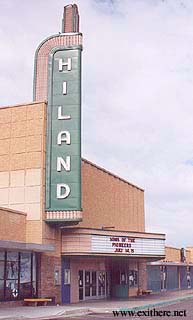 productions, the most popular of which being Popejoy Hall, which is located on the UNM campus. Both student productions and touring professional shows are put on here and usually at a very affordable price. The Highland Theater is also a great venue for live theater, presenting both the Musical Theater Southwest group as well as the always entertaining Albuquerque Little Group plays.
Moviegoers can find a wide selection of theaters throughout the city. In addition to general cinemas, there is the UNM Sub and the Guild Theater. The Guild is best known for specializing in art, classic, foreign, and other unusual films.
There are also a wide variety of live music venues. The most popular of these are the Journal Pavilion, Tingly Coliseum, the Convention Center, and the Kimo Theater. For the younger crowd, there are always local shows going on at such locations at the Sunshine Theater, the El Rey, and the Launchpad, among many others. All of these venues put on both big-time and local shows, with the ticket or entrance fees ranging from free to the quite expensive. It is usually important to purchase tickets early for any show as most of these venues are known for selling out quickly!
Museums
The best form of orientation to the city's history and flavor is the Albuquerque Museum, located on the edge of the Old Town historical district and just across the street from the New Mexico Museum of Natural History and Science, as well as the Planetarium. The National Atomic Museum, located next door, examines nuclear power in all of its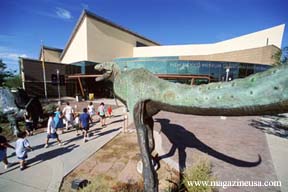 forms, from the top-secret Manhattan Project that developed the atomic bomb in New Mexico to the peaceful uses of nuclear and other alternative sources of energy.
A few miles away on 12th street, just north of Interstate 40, is the Indian Pueblo Cultural Museum. It combines an excellent overview of the different Rio Grande Indian pueblos as well as providing an Indian crafts shop, Indian style restaurant, and an official state information center which offers guides and brochures on various attractions of all kinds.
The University of New Mexico offers the internationally respected Maxwell Museum of Anthropology, the Geology and Meteoric Museums, as well as the University Art Museum.

Another notable reference point for the history of New Mexico and Hispanic culture in general is the National Hispanic Cultural Center. Since being built in 2000, there have been over 20 art exhibitions and 400 programs in the visual, performing, and literary arts. Their contribution to education is phenomenal, providing classes, seminars, lectures, school performances, youth-based projects, hands-on workshops, internships, and classroom materials to schools and the public overall. The architecture is also worth noting as it beautifully connects modern styles while still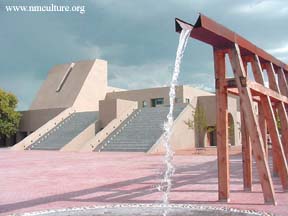 recalling styles from Spain, Mesoamerica and early New Mexico.
Albuquerque is not the only location with museums, however. Ones worth mentioning include the Museum of Fine Arts, the Museum of Indian Arts and Culture, the International Folk Art Museum, and the New Mexico History Museum/Palace of the Governors, all located in Santa Fe. The Palace of the Governors, built in 1610, was designated a Registered National Historic Landmark in 1960, an American Treasure in 1999 and is the oldest continuously occupied building in the United States.
The Sandia Peak Tramway
The world's longest tramway is an excellent introduction to the variety and spectacular scenery of Albuquerque. The 2.7 mile trip lifts you to the 10,378 foot Sandia Peak where you can view all of Albuquerque and the surrounding desert. The best view is at sunset. In the summer you can also ride the double chairlifts over the ski runs on the east slope of the Sandias. Dining is available at the High Finance Restaurant on top of the mountain or at the Firehouse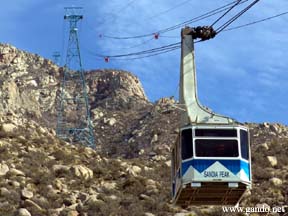 Restaurant at the base. You can also drive to Sandia Peak on well-paved roads. Take I-40 east to NM 14, North to NM 165 and NM 536. NM 44 from Placitas is a dirt road climbing the mountain's west slope and connecting with the paved NM 536. It is for sturdy vehicles and is only passable in warm, dry weather. There is ample parking at the top, and a gift shop is open from May to October. You may also walk to the High Finance Restaurant, ski areas, and Tramway along the Crest Trail.
Old Town Albuquerque
This is the oldest part of Albuquerque, built around the Plaza and containing original adobe buildings now functioning as shops, restaurants, and art galleries. Also on the Plaza is the San Felipe de Neri Church. Built in 1706, the year in which Albuquerque was first settled, it is the oldest Catholic parish in the city.
Petroglyphs
These rock carvings of Albuquerque's prehistoric Indian inhabitants cover the volcanic escarpment that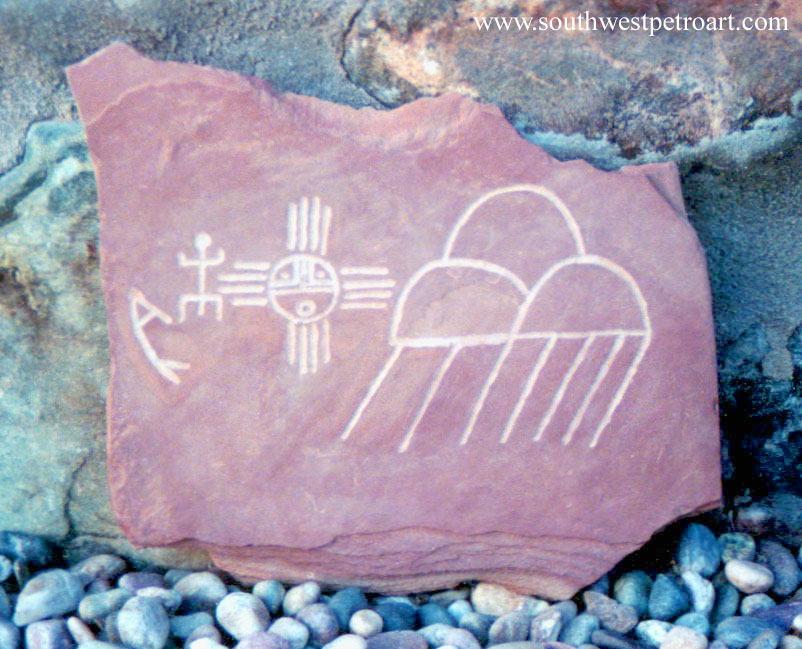 stretches for 17 miles on the western edge of the city. Most are on open city land or private development land that is accessible to the public, although a few areas are restricted by private owners. One section of this area is protected as the Indian Petroglyph State Park, located on Unser Boulevard west of Coors.
Hot Air Ballooning
Albuquerque is the hot air balloon capital of the world, each year in October hosting the International Hot Air Balloon Fiesta. With over 700 balloons from all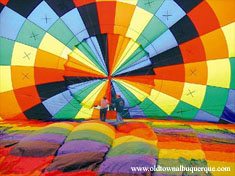 over the world assembling here, it is the world's largest hot air ballooning event. Lasting 2 weeks, attractions include the mass ascensions, dawn patrol, balloon glow, and other various special events. A number of companies offer balloon rides to the public, though not for cheap. However, the expense is well worth the experience!
During the rest of the year, balloonists take to the air on their own, often on weekend mornings.
The Rio Grande Zoo
Albuquerque's zoo is progressive and growing fast with over 250 species represented. It uses an open motif that exhibits animals in their natural settings. There are more than 1,000 animals living on the zoo's 64 acres, including a number of endangered species. Special attractions include a children's petting zoo, a tropical aviary, and several seasonal presentations.
Albuquerque Aquarium & Botanical Gardens
Opened in February 1997, Albuquerque has a wonderful aquarium and botanical garden center located near the Rio Grande Zoo. The Botanical Gardens offer summer concerts, and the Rio Line is a great source for traveling between the Zoo, Aquarium, Botanical Gardens, and Tingly Beach.
Kirtland Air Force Base
A training base for aircraft mechanics was established by the US Army Air Force near the original air field, which through its expansion later became known as Sandia Base. The growth of the area, as well as the necessity for a place to store and dismantle surplus aircraft, continued to ground support and additional testing facilities for Los Alamos Laboratories. All of which led to the development of Sandia Corporation (Sandia National Laboratories), which to date is involved with the research and development of energy sources and systems.
In 1949, the Navy established weapons test detachments that have evolved into the Naval Weapons Evaluation facility. Subsequently, other testing facilities were created, such as the Special Weapons Center, the Field Command Defense Nuclear Agency, the Air Force Contract Management Division (a component of the Air Force Systems Command), and in early 1974, the Air Force Test and Evaluation Center was organized at Kirtland. Although many chances have taken place, the operation of the Air Force Space Technology Center, activated in 1982, made Kirtland one of the most advanced and highly skilled Air Force Bases in the country.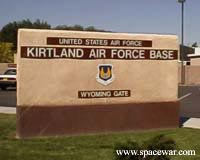 The Air Force Weapons Laboratory is responsible for the development of non-conventional weapons research, high energy laser technology, advanced weapons concepts, and nuclear weapons technology. It operates a lesser test range, the Airborne Laser Laboratory and optics development, prototype fabrication facilities, and the Z beamlet, which is the third most powerful laser on earth.
Sandia National Laboratories serves as the prime contractor to the Atomic Energy Commission, Energy Research and Development Administration, and Department of Energy. They are concerned with national security, developing and maintaining the scientific and engineering expertise that will ensure the viability of nuclear ordinance, monitoring the credibility of the weapons stockpiles for reliability and safety, and modifying weapons and development of new technologies.
For those stationed at Kirtland, the Base is almost a self-contained small city. It has its own facilities for postal services, social clubs, schools, churches, banking facilities, library services, and a commissary that ranks 7th largest in the Air Force. There is a theater that features first run films, many types of recreational facilities, and hobby shops where the do-it-yourself enthusiast can find instruction and assistance on many projects.
Getting Out of the City
One of the best things about Albuquerque is how easy it is to get away from it. This is not to suggest that Albuquerque is not worth seeing, far from it! New Mexico has a great deal to offer within a close radius of Albuquerque, with excursions both feasible for tourists based in the city with limited time for exploring and for residents looking for a weekend trip away. Although the city is growing rapidly, it is still usually possible to drive to remote areas and totally different surroundings in less than an hour.
Santa Fe
This internationally famous city, which is also the capital of New Mexico, is perhaps best known as a cultural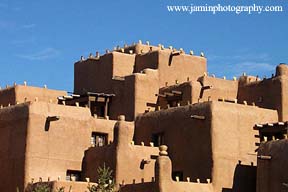 and culinary Mecca, with over 200 restaurants, countless art galleries, and some of the state's finest museums. Getting there is quite simple by car as it is only an hour drive north from Albuquerque via Interstate 25. Many brochures of Santa Fe attractions can be easily obtained from the large tourist information center just south of the city.
Indian Pueblos
There are more than a dozen pueblos within an easy drive of Albuquerque, several just north of Santa Fe. Feast days usually feature dances in the pueblo plaza and Indian crafts made by residents of the pueblo are often sold in booths or by individuals walking throughout the crowd.
Although the same festivals are held each year, plans change and Indian tradition does not attach the same importance to rigid schedules that the Anglo culture does. Check beforehand with newspapers or the Albuquerque Indian Pueblo Cultural Center for current events.
Once at any of the numerous pueblos, it is important to understand that New Mexican Indians tend to be reserved, although most are friendly to visitors who are genuinely interested in their way of life and respect their traditions. One strict rule is a ban on taking photographs of anyone or anything while visiting a pueblo that is unless you have filled out the proper paperwork and paid the photography fee. Reckless disregard of this rule will be grounds for your removal from the pueblo area and could also have serious legal repercussions.
Each pueblo has its own specialties within setting, traditions, architecture, pottery, and other crafts. Acoma and Taos are two of the more unusual examples and both are designated Registered National Historical Landmarks by the US Department of the Interior.
Acoma is known as the "Sky City" and with good reason. Built on top of a rock nearly 400 feet high, this village is located about 50 miles west of Albuquerque on I-40 with shear cliffs all around. Tours are given and handmade items sold.
Taos is one of the best known pueblos because of its traditional style of multi-teared apartment style houses. The highest mountains in the state serve as a spectacular backdrop to the village and its ceremonial dances, rabbit hunts, and racing events.
Ghost Towns
Abandoned remains of formerly thriving towns can be found in many parts of the state, but along NM 14 between Albuquerque and Santa Fe, there are 3 in various stages of abandonment.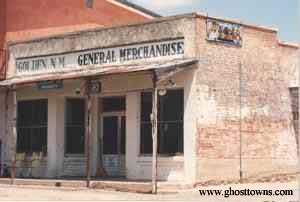 Beyond the turnoff to Sandia Peak, beyond all the stores and eateries of Cedar Crest, some 30 miles from Albuquerque via Interstate 40 lies Golden, as quiet and authentic a ghost town as you can find. Reputedly the site of the first gold strike west of the Mississippi, Golden was know for its gold mining as early as the 16th century. The Spanish dug small deposits using Indians as forced labor and later, the Depression era steam shovels worked faster but without any better reward. Today, Golden has a general store and a number of very abandoned looking homes. If there are people living in some of them, they are not advertising the fact.
Madrid, 20 miles to the north on NM 14, mined its last coal in 1956. Since the late 1970's, the town's ghostliness has been transformed into an arts and crafts center popular enough to scare any solitary minded spirit. The abandoned coal mine shaft can be inspected; complete with authentic equipment and a restored Atchison, Topeka and Santa Fe engine whose empty engineer's seat invites would-be railroad jockeys to enhance their fantasies.
One of the favorite Madrid attractions is an old-time melodrama given regularly on weekends at the Madrid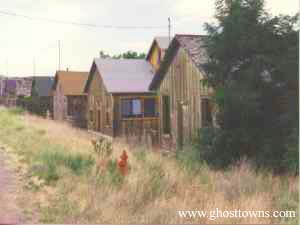 Opera House. Marshmallows are sold to the audience for the express purpose of pelting the villain. (Caution: The villain usually throws back with remarkable accuracy!) Outdoor summer jazz concerts have become a regular summer feature and the crop of restaurants includes, but is not limited to, an espresso and pastry bar.
Just three miles further north, Cerillos was once a major railroad stop for lead, silver, coal, and turquoise mined in the 1880's. Believe it or not, the own once had eight newspapers and was seriously considered as a site for the state capital. Still a contribution to the state though, Cerillos has been used numerous times as a movie set for Western films.
Achaeloogical Ruins
New Mexico is an archaeologist's paradise with thousands of prehistoric Indian sites. The closest preserved sites are at the Coronado State Monument, 15 miles north on I-25 and two miles west of Bernalillo on NM 44. It contains partially reconstructed ruins of Juana, the northernmost of the Tiwa villages where Coronado stayed during the winter of 1540.
The most extensive and carefully reconstructed ruins are at Chaco Canyon, the center of an entire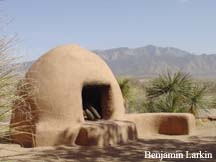 prehistoric Indian system. It can be reached by Interstate 40 to Thoreau and north on NM 57, or northwest via NM 44 to the Nageezi Trading Post north of Cuba. It is roughly 150 miles from Albuquerque with the last 30 miles being dirt road, but well worth the trip if you are at all interested in archeology or history. The height of the Chacoan period was in the 12th century. By the 13th century the entire area had been abandoned, which remains a mystery and the subject of many theories, including drought.
Chaco has 16 major pueblo ruins and several thousand smaller sites. The Chaco Cultural National Historical Park also has an excellent visitor's center and campground with water for drinking and washing. There are virtually no services of any kind, including gasoline and groceries, so be sure you are well supplied before leaving Crown Point or Cuba. Also, inquire before leaving Albuquerque to see if the dirt access road is dry enough to be negotiable for your vehicle. The visitor's center can be contacted at (505) 988-6727.
Another important ruin is Bandelier National Monument, 46 miles northwest of Santa Fe. The rock, and therefore the type of prehistoric housing, is very different from Chaco; Holes in the soft Tuff rock were used as homes, often enlarged with wood and adobe structures attached.
Bandelier encompasses 32,737 acres of wilderness, including 70 miles of hiking trails. You can obtain backcountry permits from the visitor's center. Roads are well paved to the center and the main ruins, but there are no roads to any backcountry points.
Water Fun
The Rio Grande offers white water rafting, and several companies to guide you for fees ranging from $48 to $450 per person which cover anywhere from half a day to a 4 day excursion.
For boating, the nearest lake to Albuquerque is Cochiti with 1,200 acres of surface area and located off Interstate 25 south of Santa Fe. South of Albuquerque is the state's largest lake at 40 miles long, Elephant Butte, which covers 36,500 acres.
Shopping
The largest shopping malls are Coronado Center and Winrock Mall, both located near the intersection of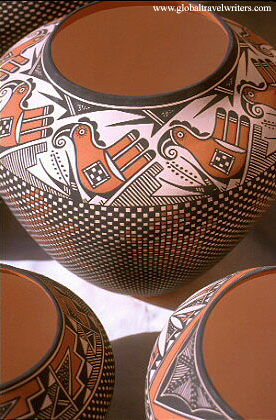 Louisiana and Menaul. The major chain stores (Sears, JC Penny, Macys, Mervyns and Dillard's) are represented here, as well as many other retail outlets. The Westside (just outside of Rio Rancho) also has Cottonwood Mall, which opened in late 1996 and offers some of the major chains as well.
There are numerous smaller shopping malls and centers located along most of the major streets. The larger centers are meant for "one stop" shopping, so they usually include a major chain grocery store. Typically, it would be difficult to be more than 5 minutes away from a shopping area.
Senior Citizens
There are several Senior Citizens' centers in Albuquerque, and they offer a wide range of activities such as classes in arts and crafts (i.e. needlecrafts, gardening, and photography), foreign languages, and various types of dance. Other activities include billiards, bingo, hiking, fishing, and potlucks. Organized trips to places of interest around the state and outside the state are usually on the schedule of events as well.
Medical Information
General hospitals in Albuquerque include the Lovelace Medical Centers, the University of New Mexico Hospital (UNMH), Presbyterian Hospital, the Heart Hospital, the Women's Hospital, Veterans' Hospital, and Anna Kaseman Hospital. The majority of these hospitals also operate urgent care centers throughout the city. There are also private psychiatric sanitariums, rest, and convalescent homes. In addition to the aforementioned general hospitals, there are several large medical centers where 50 or more doctor's offices are located. Information is available from the Public Information Office, Albuquerque, NM 87116.
Home Buyer Information
1. There is no shortage of new or resale homes in Albuquerque. There are many architectural styles to choose from: Traditional, Ranch, Contemporary, and Southwest Pueblo, to name a few.
2. New homes do not normally have landscaping or drapes. Most new homes have all carpeting and built-ins except for a refrigerator.
3. There are many different subdivisions containing new homes and townhouses or condominiums. Depending upon your architectural preference and the area of the city you want to live in, there are a surprising number of new homes to choose from.
4. Most houses in Albuquerque are constructed on lots ranging in size of 60 to 80 feet wide and 100 to 120 feet deep. There are exceptions, but this would be the average. Townhouses are usually put on lots of 35 to 40 feet wide by 100 to 120 feet deep.
5. Most houses in Albuquerque are built on one level and basements are very seldom found. There are also very few subdivisions that have an alley behind the property. Most lots back up directly to the neighbor's property.
Financing
There are ample lenders in the Albuquerque area, including our in house lender Superior Mortgage, therefore making it impossible to name them all of them here. The normal methods of financing homes in Albuquerque are FHA, VA, and Conventional. There are some homes on the market that have an existing mortgage that can be assumed at the issued rate of interest (FHA and VA loans). You can be assured Superior Mortgage can deliver a quality product at a competitive rate with an ethical approach.
Some sellers of properties will also carry back a mortgage for part of their equity at below market rates, thereby making their homes attractive.
Albuquerque has every conceivable type of financing available to help you purchase the perfect home.
Taxes
Property taxes in New Mexico are some of the lowest in the nation. The average tax on any home is roughly 1.25% of the sales price.
Utilities
Water and Garbage: The city bills each address for water, sewer, and refuse, which are billed monthly to each household.
Electricity and Gas: The Public Service Company of New Mexico (PNM) services the metropolitan area. Bills are sent out once a month.
Telephone: Qwest Communications services the metropolitan area. Typically, bills are sent out once a month.
Home Buying Services
As a member of the Albuquerque Board of Realtors' Multiple Listing Service, our company can offer any property marketed through that medium, which generally includes the majority of homes available for purchase in New Mexico. Our realtors are full time professionals with experience, dedication, and commitment to our customers.
We have found that providing advance information makes the actual job of looking for the right home much easier. Such things as the number of bedrooms and approximate size (square footage); whether you want a den, study, or spare room; the price range you have in mind; and whether you prefer a new or resale home will help assist us in finding homes that will most likely meet your requirements. Then when you arrive we will have homes ready for your inspection, along with the appropriate financing information.
We hope the preceding information will be both helpful and interesting to you, and we also hope you will visit our website at www.albqhomes.com for more information on our realtors and company. The Ingles/Company Realtors look forward to meeting and serving you in Albuquerque.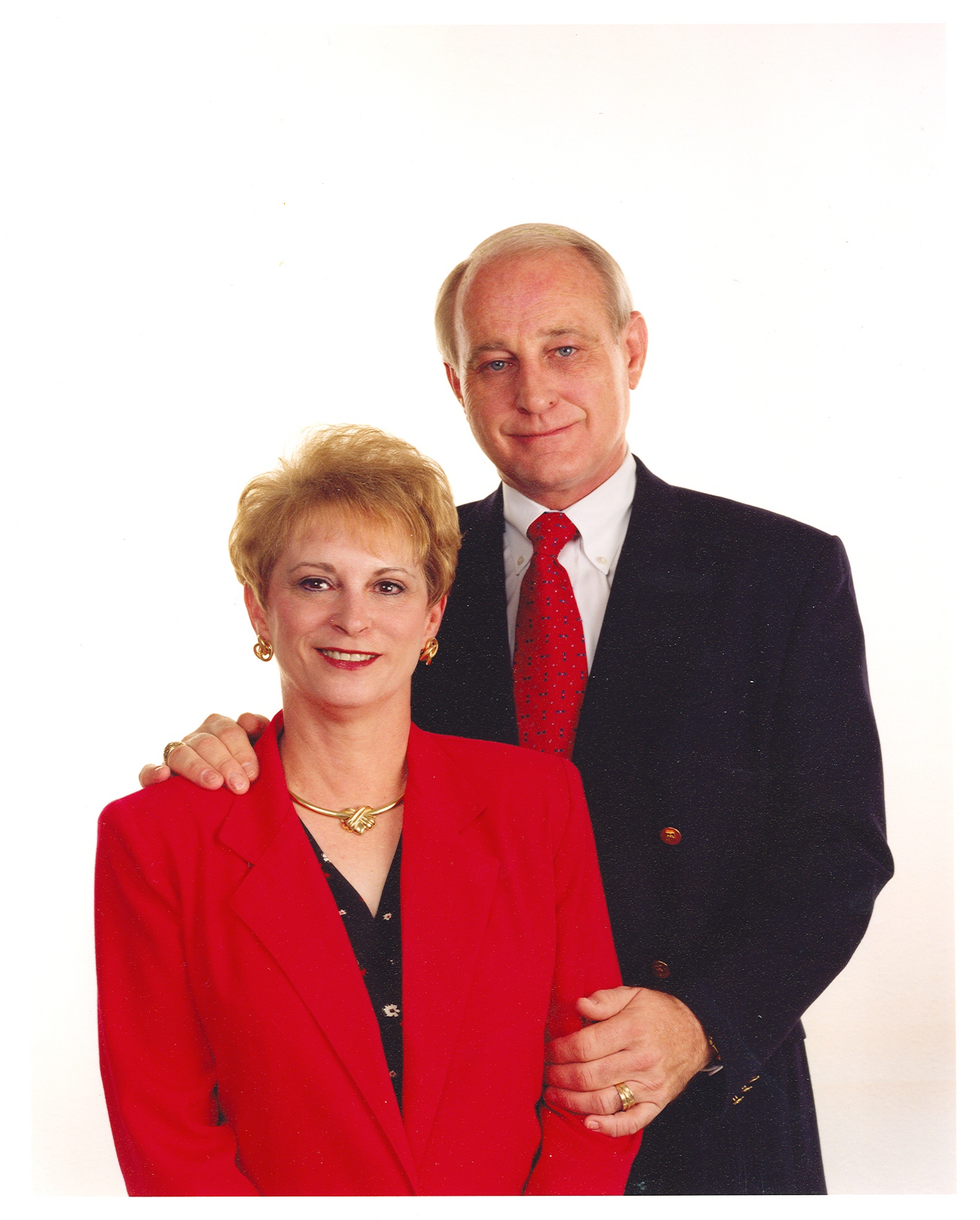 Sincerely,
John & Tracy Ingles
The Ingles/Company Realtors